Participants on the project "Regional Green Youth Charter" gathered for an online session held on Sunday, March 21th on the ZOOM platform. Sixteen students from Serbia, Bosnia and Herzegovina, Montenegro, and Kosovo* had the opportunity to present activities they carried out after the training seminar on Tara, during which they acquired necessary information on how to make an impact on creating and decision making processes, as well as how to advocate for changes in the field of ecology in their local communities.
Participants from Bosnia and Herzegovina conducted a workshop for students, on the subject of air pollution and just energy transition towards renewable energy sources. In addition, participant Maja Ibričić had a guest appearance on a radio show on the same topic. In this manner, they encouraged students to be more active in advocating for changes in their local communities.
A team of participants from Montenegro created an
educational video, in order to raise citizens' awareness about the consequences of air pollution as a global problem, and about renewable sources and potential solutions we need to strive to. They especially paid attention to the tradition of tire burning on the 1st of May, and its consequences on air, water, and soil pollution. In the forthcoming period, students from Montenegro will conduct research on citizens' level of awareness about the importance and harmfulness of this problem, and after that, they will make a petition demanding a prohibition of this damaging activity.
Participants from Kosovo* created an educational poster, that contains statistics of renewable energy sources, indicates their advantages, and calls for a transition to renewable energy production from these sources. The poster was used in an online campaign, in order to raise awareness of the people in their local communities.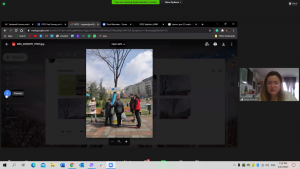 A team of participants from Serbia carried out a street action "Sačuvajmo park na Slaviji", and had a chance to talk to the citizens about the importance of preservation of green areas, which are necessary for the reduction of air pollution. They also collected the signed remarks, which they sent to the Secretariat for Urban Planning and Construction, in order to prevent the making of this park into yet another business space.
In addition, one of the participants, Amra Sabotić, organized a workshop for students in Novi Pazar, on the subject of air pollution.
In such a way, by using various canals and actions, participants of the project had a chance to spread information and raise awareness, encourage people (especially young people) to take a more active role in their local communities towards just transition to renewable energy production. The diversity of the actions they choose confirms that we need to take a more comprehensive approach to solve environmental issues. Experts, with whom the participants cooperate one the project "Regional Green Youth Charter" shared their impressions of the conducted actions, as well as their advice and guidelines for further work. After finishing these activities, participants concluded that people understood the importance of these problems and showed interest to get involved in the future and contribute to the fight against air pollution.
The European Movement in Serbia is implementing the project "Regional Green Youth Charter" with partners from the Center for Ecology and Energy from Tuzla, the Democracy for Development organization from Pristina, and the ALPHA Center from Niksic, with the financial support of the Western Balkans Fund. The specific objectives of the project are to empower students to take a more active role in their local communities in the context of a fair transition to renewable energy production, to raise awareness among young people in the Western Balkans about the importance and need to switch to renewable energy production including a more ambitious greenhouse gas reduction agenda with a shift to renewable energy production among decision-makers in the Western Balkans.
* This name is without prejudice to the status and is in line with United Nations Security Council Resolution 1244 and the opinion of the International Court of Justice on the declaration of independence of Kosovo.