This Saturday, on 15th August, we gathered participants of the program Share Your Knowledge and others interested, on Round table on the topic "Women in media and culture", held on the ZOOM platform. We opened the discussion by identifying the position of women within spheres of media and culture, then we pointed out the crucial challenges, as well as changes that are necessary for the improvement of their position in the future, especially given the new circumstances caused by the COVID-19 pandemic.
This year's participants of the program had an opportunity to meet 4 women, experts in their fields, who were willing to share their experiences and to help us better understand what is the atmosphere like now for women working in media and cultural institutions.
On these topics we spoke with Iva Paradjanin, journalist and host of the podcast show "Tampon zona", Katarina Mitic, Music Storyline and manager of Charm Music, Vanja Djuric, reporter of N1, and Jelena Knezevic, executive director of Bitef. The panel was moderated by the manager of the project Share Your Knowledge, Zorana Milovanovic.
Research shows that a typical representative of an active audience in almost all cultural categories is a woman, either younger or older. However, women not only appear as an audience, but they also make up the majority of the employees in cultural institutions, media, and news agencies, while only a few of them are in the leading positions. One of our panelists, Katarina Mitic, had the opportunity to confirm this to us, as she spoke of her experience as a member of an organizational team that participated in many international events. With her work, she refutes the prejudice that women cannot carry out complex organizational procedures, and as she says "professionalism comes first, and when you set yourself up like that, gender becomes less important. "
The problem is also in the very way that women are portrayed in media, especially in the case when women are victims of violence, which inspired Iva Paradjanin to start a podcast show "Tampon zona", dedicated to feminine topics. It is known as a fact that the voice of only 22%  of women is heard in the press, television, and radio shows. That is very devastating, so Iva recognizes endless possibilities that digital media offers in order to change that situation, and she finds starting a dialogue as one of the most important of those possibilities.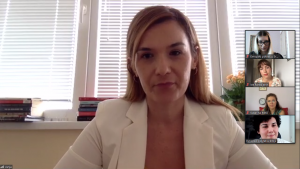 We spoke with Vanja Djuric about women's solidarity and protests, that marked the end of this year's parliamentary and local elections. We were inspired by her and other great women reporters who did their job professionally, despite the risks. The conclusion was that questions such as "why are women sent to report in crises, and not men", are meaningless because the danger does not distinguish gender. And, as Vanja said, "if we draw back, society stays where it is, and there is no progress."
The cultural sphere was affected by the COVID-19 crisis, but it has been shown that the institutions run by women are successfully fighting newly formed circumstances. A positive example is the work of Bitef, led by Jelena Knezevic. Not only did they successfully handled the financial challenges during the crisis, but they also manage to satisfy the cultural thirst, that has been particularly noticeable among people these past few months.
Once we notice the systemic gender inequality, it is difficult to overlook it. Culture shapes public opinion, and the media is an important weapon in the fight against inequality, thus together they are the main actors towards its change in the future. However, within these spheres, there is still a struggle of women to prove their qualities and abilities, as well as a struggle to come in the positions of power.
Round tables on the program Share your knowledge are regular activities, that are conducted with the aim of starting discussions on topics such as the position of women in various areas, and the importance of women's solidarity for the advancement of that position in the future.