European Movement in Serbia, in cooperation and with the support of the Friedrich Ebert Foundation, has organized the first panel discussion from the series "Talks on the future of Serbia". Zoran Gavrilović, sociologist and executive director of BIRODI; Boban Stojanovic,  political  scientist;  Sanja  Radovic,  historian;  Igor  Božić,  program director of TV N1; Zvezdana Kovač, Secretary  General of European Movement  in Serbia, students of the Faculty of Political Science and the Faculty of Media and Communications, as well as the members of Youth Forum of European Movement in Serbia discussed the topic of political culture.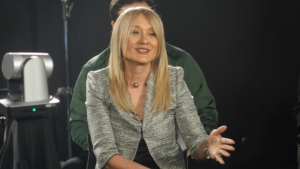 The panel was opened by the Secretary General of the European Movement in Serbia Zvezdana Kovac who stated that we live in a time of great challenges, a two-year pandemic and the ongoing war in Ukraine that is reshaping the world. Ahead of us are the local, parliamentary and presidential elections, which we welcome with habits and patterns of behavior that define political culture in Serbia as authoritarian and burdened with political violence.
Historian  Sanja  Radović  stated:  "If  we  need  to  define  our  current political culture, it is authoritarian, undemocratic, intolerant, which means that in practice most people do not recognize authoritarian behavior as a problem. I would single out intolerance as the main problem we currently face, people usually find it di cult to accept a di‰erent opinion than their own, the most drastic example we had recently with the Law on Same-Sex Partnerships when the majority group felt threatened because some other people will get the same rights. And that proved the level of intolerance is high."
Sociologist  Zoran  Gavrilović  stated:  "Apart  from political culture, we must also look into the political structure. Birodi has been doing media analysis for 10 years and we have come to what is called the populism industry. In Serbia, there is a system of television channels with national coverage, which instead of being a tool of deliberation in society, is a means of propaganda, revenge and promotion. Then in such a society you have trenches, trenches of government and trenches of opposition. Labels are being fired between those two trenches and a real media war is being waged in Serbia, which is proven by our research."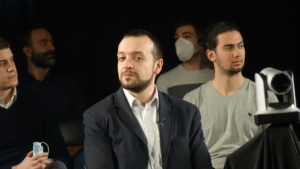 Boban Stojanović added that all other problems arise from our political culture of submission, among which also the political culture of dialogue. "The root of all that lies in those basic values that we as a society have. It is primarily a question of how political opponents are treated. That is the main problem. It does not exist in institutions, and when it does not exist in institutions, it does not exist in the media, and when it does not exist in the media, then it does not exist in friendships. "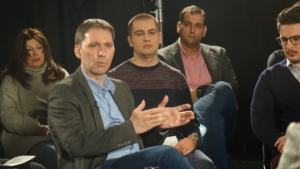 "When you are debating with someone, you have to start from the facts, and here the facts are being debated, and that is the essence of the problem. When you present a fact, someone else completely reverses it, and then how can we debate? You are not dealing with facts here, but very often with spins and lies," said Igor Božić, program director of N1.
The panel can be viewed here.
Panels "Talks on the future of Serbia" will be organized once a month. In the next panel, scheduled for May 4, we will discuss the impact of the war in Ukraine on the Western Balkans.